Products
need a custom
solution?

> Speak with us
Compact Series
Select to see features
View features
View more images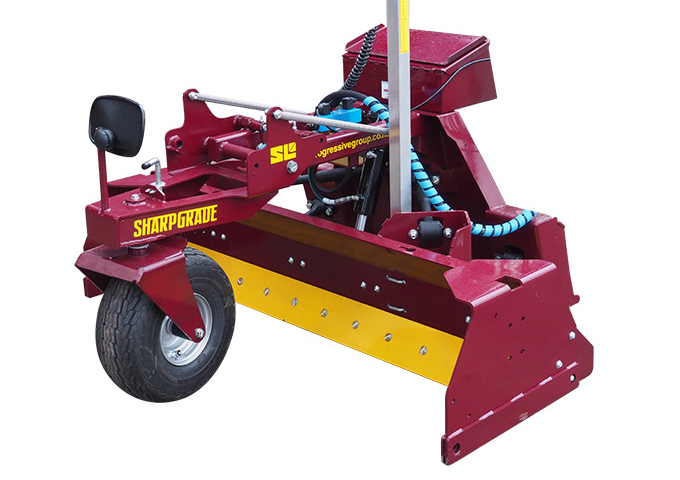 Transform your skidsteer loader into a precision laser leveller
Get the performance of a larger grading machine right from the seat of your skidsteer loader and take advantage of your loader's inherent manoeuvrability to level ground with unparalleled ease and efficiency.
The SharpGrade Leveller series of attachments, with dual grade, enables you to accurately level to within 2mm (less than 1/12"). Using a SharpGrade Leveller is up to ten times faster* than levelling using a skidsteer with standard bucket attachment.
* dual grade laser model
An optional Leica Total Station system easily grades complex grades with several gradients, diverging offset crown and different cambers.
| | | |
| --- | --- | --- |
| | COMPACT DUAL GRADE | |
| Laser Control Package | STD | |
| 3D GPS or TPS Machine Control | OPT | |
| Blade Width | 1.8m | |
| Twin Blade System | NA | |
| Retracting Wheels | STD | |
| Bucket Mount | NA | |
| 2x Extra Mirrors | NA | |
| Machine Weight | 490kg / 1078lb | |
| Horsepower Range | 30-60 | |
Accurate grading made easy
The SharpGrade Leveller enables you to accurately level, to within 2mm, large areas or small tight spaces with ease and efficiency. Fit with dual or single axis laser levelling capability to ensure your levelling stays millimetre perfect over the whole job. Features such as knife edge side shields and retracting wheel allow you to accurately trim right up to edges and get into tight corners. Large mirrors let you see exactly what's happening on the whole front blade, eliminating blind spots.
Fast results
Designed specifically to work on skidsteer loaders the SharpGrade Leveller works in forward and reverse for optimal efficiency. Twin pivoting blades give the ability to cut, carry, trim, spread and finish in one pass, in either direction, for speed and control. A curved mouldboard ensures wet material can be easily rolled. Operated from your machine's hydraulic system, in-cab adjustments are a breeze and levelling is up to ten times faster than levelling using a skidsteer and standard bucket attachment.

Plug and play attachment
The SharpGrade Leveller is quick and easy to attach to your machine. No tools required, simply clip the unit into place and attach the hoses and you're ready to start work. The handy front mounted bucket carrier for ease of transport allows you to take both leveller and bucket to the job.
Maintenance free performance
Designed and built with longevity in mind, the leveller features induction hardened pins, self-lubricated bushes and dirt seals in all moving joints, so it won't let you down when time equals money. The patent pending sealed QuadRod system keeps the blade rigid and accurate at all times, with low maintenance. Simple hydraulic valves with built in relief protects the system from overload. Valves feature manual override capability to allow easy diagnosis if there is ever a problem.
Additional Features
Leica powerblade system is highly accurate and easy to use, the blade can be manually operated by the 4 in 1 control at any time, with or without the laser control connected.
Front mounted bucket carrier for ease of transport allows you to take both leveller and bucket to the job.
Long life parts. Induction hardened pins, self-lubricated bushes and dirt seals in all moving joints provide a long low maintenance life.
Unique Linkage. Patent pending QuadRod system gives unparallelled rigidity, allowing use on 100+ HP machines. With only 4 arms, the outboard cylinders are directly connected to the outer edges of the blade, giving xmm accuracy. All joints are lifetime sealed, lubricated and maintenance free, with no further maintenance required.
"My SharpGrade Leveller has more than trebled my efficiency. I can cut, carry, trim and back blade on grade in either direction: I would not be without it."
Chris Foote, Chris Foote Design & Build Ltd

Please wait...
Enquire about this product
Project Gallery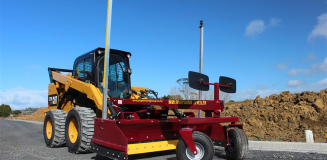 Laser Leveller Attachment for a Skid Steer
Situation Earthworks contractor, Chris Foote, was contracted to level a soccer playing field for the Junior Soccer World Cup, but a conventional...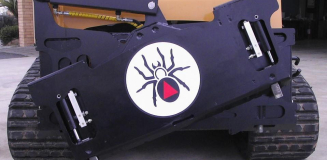 Katipo Tilt Hitch for a Skid Steer Machine
Solution Progressive Group designed and built a light 116kg hitch with a 20 degree tilt, with only 92mm forward length. A large external bearing...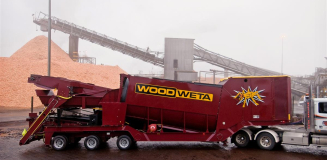 WoodWeta
Situation A wood hogging contractor, Materials Processing Limited, was having problems with their hogger / grinder with excess wear, fuel...