Products
need a custom
solution?

> Speak with us
ScapeRake
View features
View more images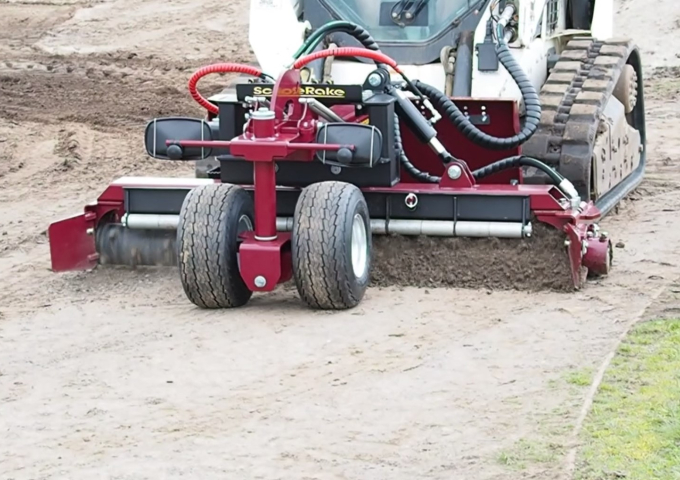 The ScapeRake is a heavy duty power rake, designed for rugged use.
It is available is 2 sizes 1.8m (6') and 2.2m (7')
It can be fitted with the optional tilt function, which allows the drum to tilt 12 degrees left or right.
Direct drive drum: no chain cases to leak or wear out
Internal drive motor: no chains to snap and destroy the drive
Optimum drum size: allows material to pass over quickly
Internal sealed and shielded bearing: protected from dirt and wire
Grease free bushes and pivots: sealed for life, no greasing required
Removable stone barriers: easy access to drum
3 position stone barriers: set optimum product size in 5 minutes
Retracting front wheels: reduces transport length, work in confined areas easier
Wheels mounted off chassis to reduce stress on drum structure
"Swide Shift" design: offsets drum when angled giving more room to work along fences, walls etc.
"I did in a few hours what would have taken me 2 days to do with a bucket and rake. The tilting function is great for contouring. I looked at many US made units but they did not look to have the durability or tilt function of the ScapeRake. I am finding new uses for it every day"
Mike Morley, Morley Earthworks Washington USA

Please wait...
Enquire about this product