Our Work
WoodWeta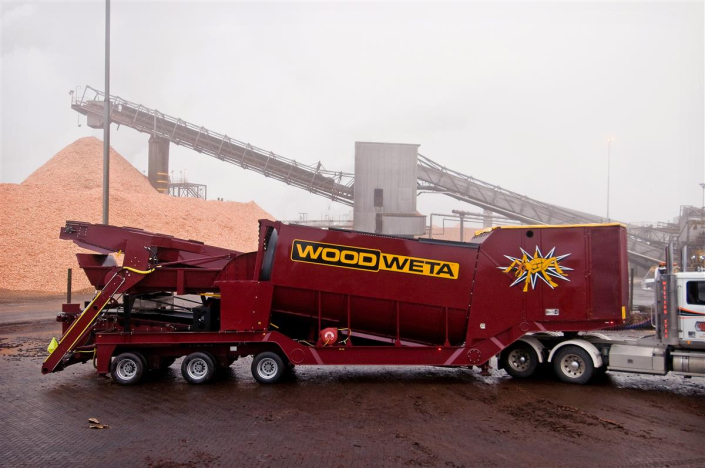 Situation
A wood hogging contractor, Materials Processing Limited, was having problems with their hogger / grinder with excess wear, fuel inefficiency, jamming up of product and the need to screen product more than once.
They had tried various known brands with similar results.
Solution
Progressive Group designed a hogger / grinder, the WoodWeta, to separate out fines and screen product already to size, before larger product is shredded, giving better efficiency and lower wear. The angle of the high speed rotor, combined with the slow rolling drum keeps the product moving, avoiding jam ups.
The WoodWeta also efficiently processes greenwaste, including difficult products such as flax, cabbage trees and palm trees.
Testimonial
Consistent sizing that reduced our pre-composting screening requirement to zero. We have seen this sizing result from the Weta on forest residues to biofuel previously, but consistent sizing of greenwaste in one pass is the exception among grinders.

The machine featured very good engineering design, built for longevity which is also rare in this market. Maintenance and cutting tip changes was easy with good access to service points and very careful attention to safety equipment and lockouts. There were no issues with projectiles or flying debris due to the confined rotor design. The very long, folding discharge conveyor gave a high capacity stockpile, substantially reducing the loader hours normally used to re-handle product.

The ability to remove dirt and fines before the rotor reduces tip wear considerably, particularly on greenwaste processing.

Peter Fredricsen, Materials Processing Ltd
---

MATERIALS PROCESSING LTD
P.O Box 332, Hamilton 3240. New Zealand.
Telephone: +64 7 849 7620
Facsimile: +64 7 849 7621