Products
need a custom
solution?

> Speak with us
B72 Compact 1.8m
Select to see features
View features
View more images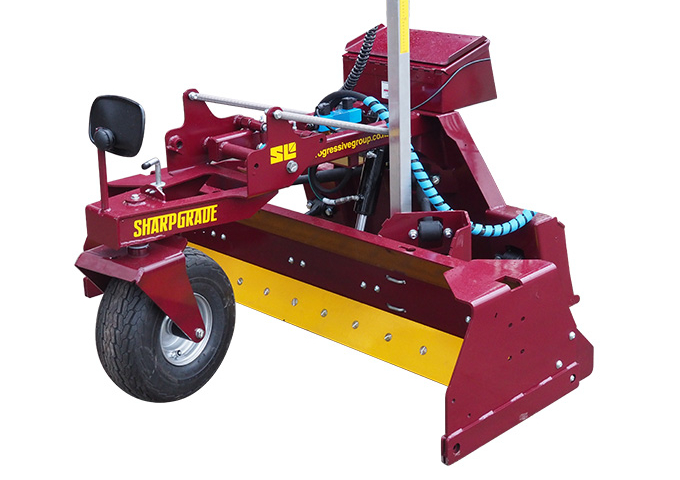 Transform your skidsteer loader or articulated wheel loader into a precision box grader
Get the performance of a larger grading machine right from the seat of your skidsteer loader and take advantage of your loader's inherent manoeuvrability to level ground with unparalleled ease and efficiency.
SharpGrade B72 Compact 1.8m / 72"

QuadGrade 2D Laser Control Package

STD

3D Dual GNSS or TPS Machine Control

OPT

Blade Width

1.8m / 72"

Twin Blade System

STD

Retracting Wheels

STD

Machine Weight

490kg / 1080lb

Horsepower Range

40-65
Benefits:
The SharpGrade B72 Compact enables you to accurately level to within 3mm (less than 1/10"). Using a SharpGrade Box Blade is up to ten times faster than levelling using a skidsteer with standard bucket attachment.
Optional Total Station or dual GNSS 3D systems allow you to easily grade complex contours with several gradients, diverging offset crown and different cambers directly from the control of the SharpGrade.
Accurate grading made easy
The SharpGrade Box Blade enables you to accurately level, to within 2mm, large areas or small tight spaces with ease and efficiency. The dual grade system ensures your levelling stays millimetre perfect over the whole job. Features such as knife edge side shields and retracting wheel allow you to accurately trim right up to edges and get into tight corners. The single wheel allows you to grade in between services withut damage. Large twin parabolic mirrors let you see exactly what's happening on the whole front blade, eliminating blind spots.
Fast results
Designed specifically to work on skidsteer loaders or articulated wheel loaders, the SharpGrade Box Blade works in forward and reverse for optimal efficiency. Twin pivoting blades give the ability to cut, carry, trim, spread and finish in one pass, in either direction, for speed and control. Operated from your machine's hydraulic system, in-cab adjustments are a breeze and levelling is up to ten times faster than levelling using a skidsteer and standard bucket attachment.

Plug and play attachment
The SharpGrade Box Blade is quick and easy to attach to your machine. No tools required, simply clip the unit into place, attach the 2 x hydraulic hoses, 1 x control harness and you're ready to start work. A built in bleed valve relieves the pressure in the hoses for easy connection.
Maintenance free performance
Designed and built with longevity in mind, the leveller features induction hardened pins, self-lubricated bushes and dirt seals in all moving joints, so it won't let you down when time equals money. The patented, sealed QuadRod system keeps the blade rigid and accurate at all times, with low maintenance. Simple hydraulic valves with built in relief protects the system from overload. Valves feature manual override capability to allow easy diagnosis if there is ever a problem.
Standard Features
QuadGrade 2D system with adjustable grade height receivers: Electronically adjust the grade height 2mm (1/10") at a time without laving your seat. Increased receiver range means you stay on grade longer. It is highly accurate and easy to use, the blade can be manually operated by the 4 in 1 control at any time, with or without the laser control connected. Compatible with skid steers, small wheel loaders and mini excavators
Greased for life, low maintenance design. Induction hardened pins, permanantly sealed, self-lubricated bushes and dirt seals in all moving joints provide a long low maintenance life.

Unique QuadRod Linkage. The Patented QuadRod system gives unparallelled rigidity, allowing use on 100+ HP machines. With only 4 arms, the outboard cylinders are directly connected to the outer edges of the blade, achieving the ultimate in accuracy. All joints are lifetime sealed, lubricated and maintenance free, with no greasing required.

Single retracting wheel: Offer the ultimate in compact grading, get up close to walls, curbs, foundations or use as a bulldozer, while providing the shortest transport length in class. The single wheel allos you to grade betweeen services without damage.

Adjustable hitch plate: Sets SharpGrade perfectly level with boom fully down to provide the ultimate in rigidity. This reduces track and tyre wear and boom and linkage wear as the SharpGrade is pushing on the front of the machine intead of transferring the load to the rear of the machine through the linkages. This is especially important with vertical lift machines.

Twin parabolic mirrors: See the front blade and both front wing tips for confident grading in confined areas, along walls, curbs or foundations.

Graduated laser poles: Quick, easy set up of laser receivers with our built in measuring tapes on our laser poles. Available in metric and imperial dimensioning, no tape measure required.
OPTIONAL FEATURES
Scarifiers:

Used for compacted surfaces, tugnsten granule coated teeth protrude 50mm (2") below blade height, scarify forwards, trail in reverse, pin up when not in use or quickly remove

Removable laser poles:

quickly change from long to short poles for indoor work or working in height restricted areas. No tools required.

Electric retracting wheel: Retract the front wheel from inside the cab of your machine: ideal for tight, confined spaces or areas where the boxing has already been installed.
Direct Connect: Connecting the SharpGrade to the base machine via the 14 pin plug o nthe boom, the operator can directly control the SharpGrade from the extra buttons on the handles. We have Direct Connect kits available for most brands, including Case, Cat, Deere, Kubota & Takeuchi
QuadGrade Sonic system: Reads a string line, curb lip, or the ground for grades not possible to achieve with a laser. Plugs directly in and reads off the control panel. Height and slope adjustable from cab.
Other Control Systems: Available Topcon Ready or Leica Ready with Direct Connect
"My SharpGrade Leveller has more than trebled my efficiency. I can cut, carry, trim and back blade on grade in either direction: I would not be without it."
Chris Foote, Chris Foote Design & Build Ltd NZ
"The rigidity, visibility and fast response time are great. After running level Bests for 6 years the SharpGrade is on the next level. The SharpGrade is slick"
Jeremy LeVan, LeVans's Excavating, Ohio USA
"Since we upgraded to a 3DTPS SharpGrade 18 months ago our motor grader seldom leaves the yard. The SharpGrade has significantly increased our finishng speed and accuracy"
Paul Scarborough, Scarbro Construction NZ
"The speed and accuracy of my sharpGrade is amazing. I can consistantly trim and level 20,000 feet in an afternoon within 2/10". Previously it took 2 guys 2 days to get less than half this accurate".
Bryce Merrick, Merrick Enterprises Idaho USA

Please wait...
Enquire about this product
Project Gallery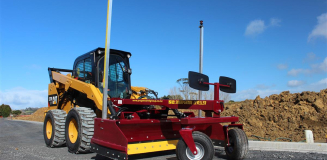 Laser Leveller Attachment for a Skid Steer
Situation Earthworks contractor, Chris Foote, was contracted to level a soccer playing field for the Junior Soccer World Cup, but a conventional...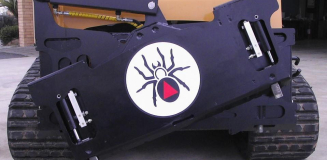 Katipo Tilt Hitch for a Skid Steer Machine
Solution Progressive Group designed and built a light 116kg hitch with a 20 degree tilt, with only 92mm forward length. A large external bearing...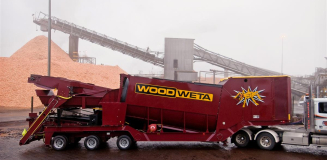 WoodWeta
Situation A wood hogging contractor, Materials Processing Limited, was having problems with their hogger / grinder with excess wear, fuel...